Artisanal Gold Mining, Mobility and Ideas of Sustainable Futures in Ghana
The project ´Artisanal Gold Mining, Mobility and Ideas of Sustainable Futures in Ghana´ aims to generate a better understanding of the imagination, governance and materialization of sustainability in the domain of artisanal and small-scale gold mining in Ghana. It is part of the international research consortium 'Gold Matters: Exploring Transformations to Sustainability in Artisanal and Small-scale Gold Mining' .
The objective of the 'Gold Matters' project is to consider whether a transformative approach towards sustainability can arise in Artisanal and Small-Scale Gold Mining (ASGM). Anthropology is an entry point for an interdisciplinary approach to better conceptualize the dynamic, heterogeneous reality of ASGM and to identify potential for sustainable transformations in these shifting social settings.
'Gold Matters' is a comparative trans-continental and trans-national project, which focuses on the regions South America, West Africa and East Africa. It involves collaboration with, among others, African photographers from NUKU Studios, Ghana, and the Museum of Ethnography of Material Culture, The Netherlands. Key to the project are its "Sustainability Conversations", a method that facilitates the co-production of knowledge with mining actors in order to understand sustainability from miners' own perspectives and to enhance impact.
Within this international consortium and overarching framework, the anthropological project based in Hamburg will look into how different ASGM actors frame and act towards desired futures in Ghana.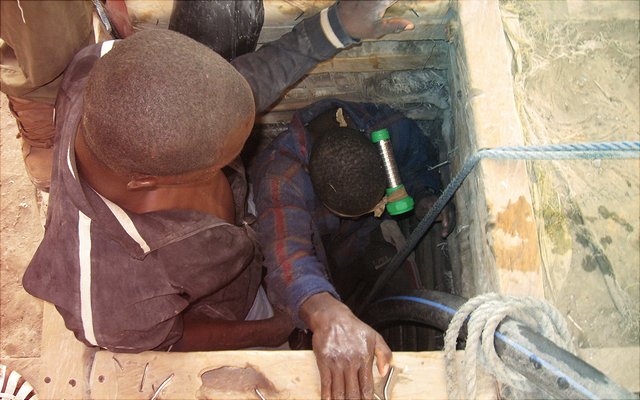 Miners at the mine site Sikamina in Ghana are descending into a shaft of more than 30 meters deep. To bring to light how the underground is organized and governed is one of the project's interests. Picture by © Robert Pijpers, 2010.