Alter(n) im transnationalen Raum
(Re-)Migrationsprozesse zwischen Mexiko und den USA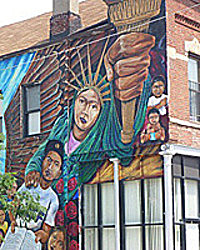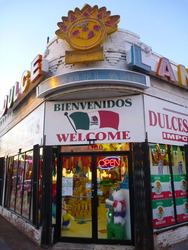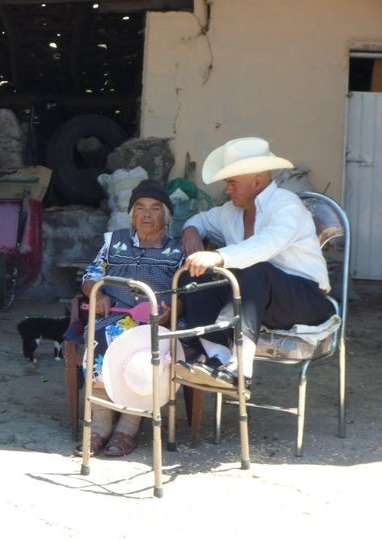 Foto: Franziska Bedorf
This research project addresses the decision of migrants whether to return to their country of origin or to stay in their host country upon retirement. Although our study focuses on the case of Mexican migrants in the city of Chicago, United States, the research seeks to shed light on a topic of global importance and to present a basis for comparison for similar patterns of migration in Western European countries, such as Germany.
Background
The dimension of migration from Mexico to the United States has increased significantly since the 1960s, and more and more Mexicans settled permanently or for longer periods in their neighbouring country. A significant consequence of this movement starts becoming apparent: the first generation of migrants from this period is approaching retirement age. People who decided to leave Mexico in the 1960s/1970s to settle permanently or for longer periods in the United States are in their sixties and seventies now and may be thinking about exiting the working life. This process brings about a number of changes in the status and roles of a person. New opportunities and freedoms emerge as well as new challenges. Among others things the question of where to settle down when work as the binding factor vanishes becomes crucial. On what grounds does a person now choose where to live at this stage of his or her life? What are the factors influencing somebody's decision of where to settle down? Is it mostly one's legal status, one's economic situation, one's family and friends, one's cultural norms and values, the system of health care and social security one has access to?
Research questions
In our research we want to address the phenomenon described above by examining the case of elderly Mexican migrants in Chicago, IL. The aim of the study is twofold: First, we seek to answer the question where Mexican migrants in the USA choose to live upon retiring from working. Do they remigrate to Mexico? Do they stay in the U.S.A.? Or do they "commute" between the two countries, embodying a transnational lifestyle? Secondly, we want to explore the reasons for this choice and analyze which factors are pivotal for the settlement decision.
Theoretical framework
We assume that a migrant's settlement decision after exiting the active workforce depends on this person's belonging. One's belonging in turn is constituted by a network of interlinked factors, which are on the one hand shaped by the structural level of society, such as its laws, its economy, its political, social and religious organisation and its cultural models, creating certain limitations and opportunities for every actor. On the other hand, people also engage actively with this structural framework, negotiating and changing its limits and seizing its opportunities in different ways. This interplay of given structural conditions and constant individual negotiations generates the social networks, economic and legal status, cognitive-cultural orientation, political inclination and religious attitude of a person, which altogether form a person's belonging.
Methodology
In order to examine the question of ageing in the migratory context of Mexico and the USA this socialanthropological research is based on a case study that focuses on several communities in Chicago, applying both qualitative and quantitative methods. Thus, the research project involved one year of fieldwork in both Mexico (July and August 2010) and the USA (September 2010 – August 2011) to study the nature of the migrants' transnational lives. By including both contexts it is possible to fully grasp their meaning for a person's decision at that turning point of her life. Assuming a social anthropological methodological framework, Franziska Bedorf established close contacts to Mexican communities in Chicago, particularly to their members aged 55 and above. In order to understand the nature of their lives and to investigate their choice when being faced with "retirement" she observed and participated in events such as church services, meetings of hometown associations, citizenship and language classes and senior club gatherings as well as parts of peoples' everyday lives.  Apart from participant observation, open and semi-structured interviews, which she conducted with both (1) Mexican migrants who haven't retired yet and start thinking about possible options, (2) Mexican migrants who are in the process of retiring/moving and (3) Mexican migrants who have already made a decision on where to settle down, were a crucial part of her fieldwork. These interviews were complemented by questionnaires that built upon the information gathered and also contained elements of social network analysis, as well as by interviews with experts on certain fields such as social workers, lawyers, health professionals and clergymen.
Conferences
A paper presenting preliminary results of the research project has been accepted at EASA conference 2012 "Uncertainty and Disquiet" (July 2012)
Paper Title: "From Ultimogenitur to Senior Club. Negotiating certainties and uncertainties of growing older between rural Mexico and urban Chicago."
Short Abstract
Mexico - U.S. migration greatly affects the living conditions of elderly Mexicans on both sides of the border. Examining communities in rural Mexico and urban Chicago we seek to investigate what kinds of new (un)certainties the migratory context causes for elderly Mexicans in both settings.
Long Abstract
Many Mexicans on both sides of the U.S.-Mexican border agree that fulfilled ageing is tightly connected to the everyday presence and care of family members and the family in general. Such perceptions are part and parcel of wider Mexican kinship and family ideologies. However, lived realities in transnational communities between rural Mexico and the USA diverge from these idealized discourses. Based on two long-term field projects and ethnographic locations (rural Mexico and urban Chicago) we want to ask how the elderly and their families within migrant transnational communities deal with new uncertainties (and certainties) emerging out of broader changes in economic, social and ideological conditions that are linked with migration. While elder women and men in rural Mexico are confronted with the crumbling of indigenous inheritance and security systems such as the practice of ultimogenitur, their elder counterparts in Chicago face new models of living arrangements and daily routine that result in appreciated leisure time on the one hand and loneliness and abandonment on the other hand. Participation in past time activities at Senior Clubs serves as a means to deal with this ambiguous situation and to create new social ties. Both in Mexico and Chicago migration thus crucially influences the frameworks and structures elderly Mexicans interact with, thereby necessitating new strategies for a satisfied ageing. In the new emerging realities the ideal of a family centred old age might be replaced by more diverse models of ageing.
PhD research: Franziska Bedorf, M.A. (University of Hamburg)